What are the dangers of writing short date in the year 2020. Is this WhatsApp India Messages true ? Is this a scam or hoax ? Check the truth here.
Story:
There are many viral WhatsApp messages circulating today (27.12.2019) through different WhatsApp groups and Private chats in different languages all over India.
WhatsApp Messages Content:
This message as a Banker and financer

While writing a date in upcoming year 2020 , we should write in its full format, e.g. 31/01/2020 and not as 31/01/20 because anyone can change it to 31/01/2000 or 31/01/2019 or in between any year to his convenience
This problem will persist only this year.
So be cautious about this. Don't write and also don't accept it while receiving any documents.
Prevention is better than cure.
Screenshots of WhatsApp Message Content: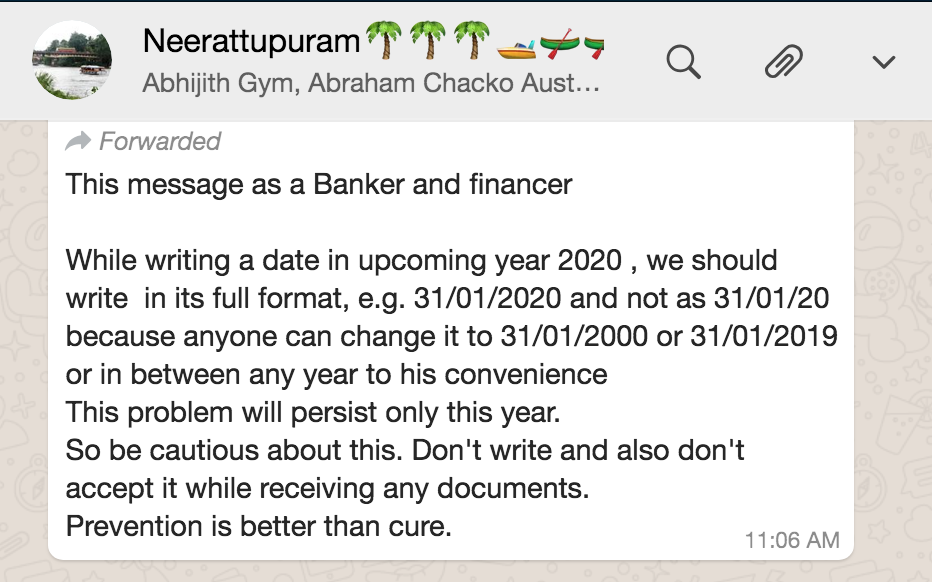 ---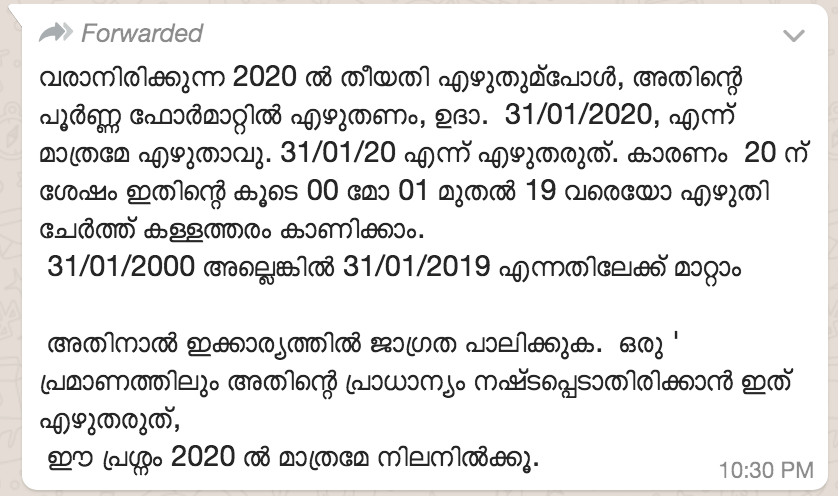 Truth of this WhatsApp Message Content:
In India as per RBI guidelines, the validity of Cheque, Pay Orders, Demand Draft and Banker's Cheques are only 3 months. And all other documents like agreements should be registered online as per latest rule otherwise they are invalid.
"While preparing all legal documents, We have to write in full date format. Thats a common practice." Jayakrishnan from Niranam (Kerala) messaged in a WhatsApp Group.
Please note that tampering any such data of any documents can easily be found out by experts and the forensic department of India. So usually this might not be a big legal issue.
The following are the list of documents that do not require registration:
Power of attorney that is given except power to sell property
Development agreement
Agreement of sale given by a land owner to a developer
Lease agreement
Lease deed for less than one year
Memorandum of oral partition recording a past transaction.
All the above are for short terms. So be careful while writing dates on these documents or on other documents which are not listed here.
It is always a good practice to write the date in full format like DD.MM.YYYY or DD/MM/YYYY or DD-MM-YYYY.
Example: 01/01/2020.
Please note that these list are from old data taken from some online legal services website. I request you to consult your legal person for further information.
Now please share these in all WhatsApp Groups, Facebook, Twitter and let others to know about it.